Lincoln Days Celebration Food Drive
February 12-March 12, 2023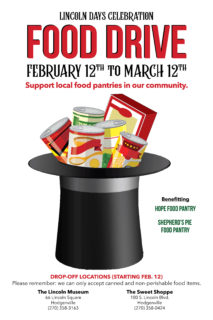 In recognition of Abraham Lincoln's 214th birthday, the Lincoln Days Celebration board of directors is hosting a food drive to support LaRue Countians who are facing hunger.
LaRue County has two food pantries: Hope Food Pantry organized by the United Methodist Church in Hodgenville and Shepherd's Pie Food Pantry organized by Cumberland Presbyterian Church in Magnolia.
Donations of canned and non-perishable foods will start on Friday, February 12, 2023 continue through Friday, March 12, 2023.
Suggested items for donation include the following canned and non-perishable food items:
Canned soups
Canned fish
Canned fruit
Peanut butter
Cake mixes
Please be sure to check expiration dates and use by dates on items donated to ensure their safe usage.
Drop-Off Locations (starting Feb. 12)
The Lincoln Museum
66 Lincoln Square, Hodgenville
(270) 358-3163 – Open Mon-Sat, 9 am to 4 pm and Sunday Noon to 4 pm
The Sweet Shoppe
100 S. Lincoln Blvd., Hodgenville
Phone: (270) 358-0424 – Open Mon-Sat, 10 am to 6 pm