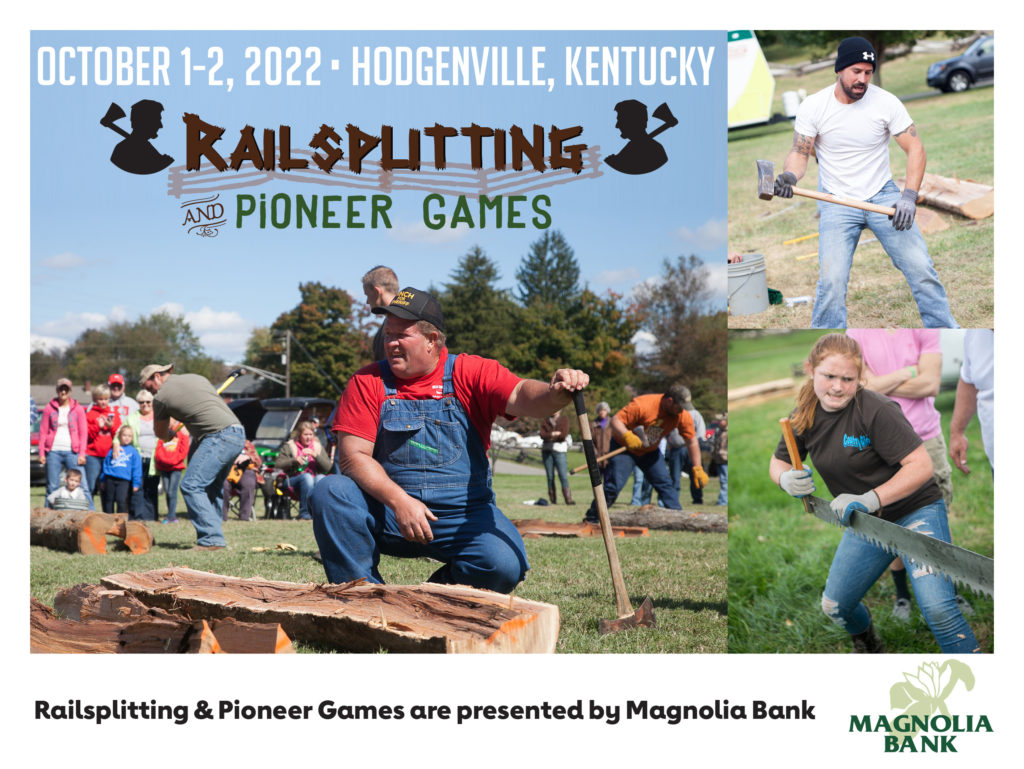 sponsored by Magnolia Bank
Sat., October 7 at 10:30 a.m.
Mandatory team meeting at 10 a.m.
CreekFront Park
– – – –
Whether a bucket brigade competition, tug-of-war, or cross-cut sawing competition, the pioneer games are one of the more unique, as well as entertaining aspects of Lincoln Days. Most events are based on skills that would have been essential to pioneer living, and the rest are just plain muddy fun.
Scroll down for team information, rules and details.
Click here to review a list of pioneer games events.
2023 Pioneer Games
NOTICE:  10:00 A.M., Saturday, October 7, 2023–Team Meeting.
All Team Captains meet at CreekFront Park. Team Captains will draw for all team positions and review all game rules.
There are ten (10) pioneer game events.
Teams may consist of eight (8) to twelve (12) members with at least two (2) women per team.
All team members must sign Release Forms before games begin. ***Parent/guardian must sign for any participant under age 18.
Pioneer games may be limited to the first eight (8) teams who register and pay their entry fee. Rules will be available at the Lincoln Days office at 60 Lincoln Square, Hodgenville, Ky 42748.
Entry Fee is $10.00 per person, with a maximum of $80.00 per team, non-refundable.
Winning teams will be determined on basis of points earned in the ten (10) events that constitute Pioneer Games. The team with the most points at the conclusion of the games will receive a cash prize.
All points will be awarded at the sole discretion of the judges.
All decisions of the judges will be final.
CONDUCT: All team members are expected to behave in a responsible manner, mindful that they are participating in a public event that is very family orientated. There will be NO alcoholic beverages allowed at Creek Front. No vulgar language or profanity is permitted. Anyone not following this code of conduct will be asked to leave.
PARKING: Due to the limited space at CreekFront Park, there will be no parking allowed.
The Pioneer Games Chairperson will direct Team Captains and Team Members as to Parking, Unloading Equipment, etc.
Teams will not be allowed to wear cleats of any kind in any event. PARTICIPANTS ARE NOT ALLOWED TO WEAR SHORTS OR TENNIS SHOES DURING ANY COMPETITION.
After a team participates in a strenuous event, the team will receive a ten minute rest period unless waived by the Team Captain.
Teams may choose to by-pass an event, but, will be penalized ten (10) points for each event by-passed.
First Place – 10 Points
Second Place – 6 Points
Third Place – 3 Points
Scoring:
***Each team that participates in the Pioneer Village will receive a ten (10) point Bonus.
SCHEDULE OF EVENTS:  Beginning at 10:00 am on Saturday, October 7 with Team Meetings , the first seven events of the Pioneer Games will be held prior to the Parade (2:00).